things I should have done (and did)
travels in greece
Rob's Journal Entries while in Greece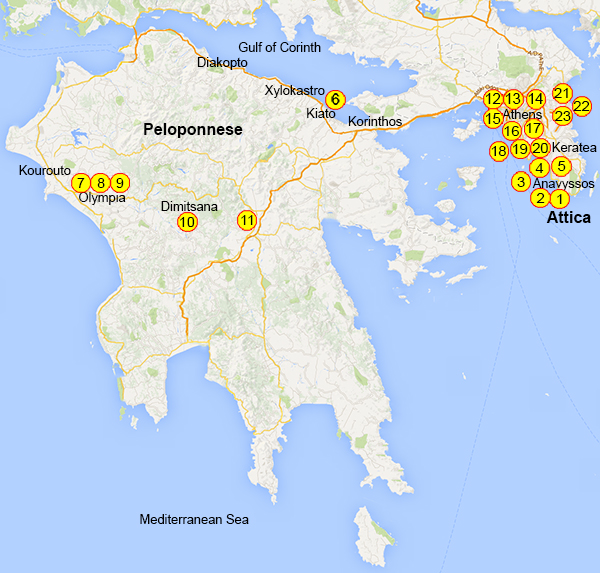 With Judi - Sept 21 to Oct 2, 2007 - Greece
Our first trip anywhere outside North America, after being married for twenty-eight years was to Greece. We knew that we wanted to go to Europe and we decided on Greece without thinking about it much. Where to go specifically took some research and Judi figured that out. Her choice of Anavyssos, on Attica, was good because it was in a lovely spot and since it wasn't on an island we could take road trips. There was a striking coincidence about it. Before she left on the trip and after she made the reservations Judi met a Greek immigrant in Wilmington and when she asked him where to go, after it was too late to act on his recommendation, he said we should go to his hometown, which was Anavyssos.

#1- Home

above Anavyssos Greece,

#2- Sunset

over Saronic Gulf Mediterranean Sea,

#3- Beach

at Anavyssos,

#4- Fishing boat

Anavyssos,

#5- Fishing boat and island

off Anavyssos,

#6- Gulf of Corinth

from Kiato,

#7- Olympion Asty

Hotel, Olympia,

#8- Hermes

Carrying Dionysus by Praxiteles

#9- Ruins

at Olympia,

#10- Dimitsana

Peloponnese,

#11- Valley

west of Tripoli,

#12- Porch of the Caryatids

on the Erechtheion,

#13- Rob and Judi

on the Acropolis,

#14- Columns

on the Acropolis,

#15- Acropolis

with Herodus Atticus in foreground,

#16- Acropolis pediment

,

#17- Temple of Zeus

in Athens,

#18- Fishing boat

,

#19- Greeks

in a bar,

#20- Park

on Varkiza Harbor Greece,

#21- Aegean coast

east of Athens,

#22- Abandoned house

on Aegean coast east of Athens,

#23- Aegean wave

,
travels elsewhere

#1
Earthly travels begin with birth. Mine was at Dixie Hospital in Hampton, Virginia. Proud of my Confederate roots I was disappointed to learn recently that the hospital was named after the founder's horse, not the South.
#2
My second childhood home was in Woodbury, New Jersey, starkly different from southern Virginia, and my third was in Wilmington, Delaware, which is where I graduated high school.
#3 & #4
I married my high school girlfriend when I was in college in Delaware in 1975. We took trips to Portland, Maine and Montreal. Her father's family were lobstermen before he went into the Navy and then became a barber in South Jersey. We only stayed married for a couple years.
#5
Things started to get exciting in 1979 when I met and married Judi. We moved from
Marcus Hook, Pennsylvania
to the
Eastern Shore of Maryland
, with our infant son Dan, in 1980.
#6 & #7
From there we went to
Tillamook, Oregon
which is almost on the coast, seventy miles due west of Portland.
#8
The McNeil Lehrer News Hour hired me to do some video post cards like they have on CBS Sunday Morning today in northern California in the early 80's.
#9
In the summer of 1985 we moved to Los Angeles but we only stayed for the summer and then we moved to
#10
Florida, where we lived until 1989. The job I had there included extended and shorter stays in Key West
#11
, Mobile, Alabama
#12,#13
Wilmington and Southport, North Carolina
,
#14
Governor's Island, the Coast Guard station off the south end of Manhattan,
#15
the North Atlantic
, Guantanomo Bay, Cuba and
#16,
and Loiusiana
#17
. I took a
job is Seattle
#18
in 1989 which required trips to Souix Falls, South Dakota,
#19
and included R&R on the Olympic Peninsula
#20
. The road trip cross-country to take up residence back east again included Judi's company and a stop at Yellowstone
#21
. Once settled in the place that feels most like home, Delaware
#22
, I took business trips and vacations to
#23
San Francisco,
#24
Detroit,
#25
Chicago and
#26
Bear Run, Pennsylvania to see Frank Lloyd Wright's "Falling Water". The San Francisco trip included meetings at the Lawrence Livermore National Laboratory, the Majave Airport with Burt Ratan, where I met Sir Richard Branson, and my only visit to Las Vegas. Detroit and Chicago host comic book conventions. I went to those with Mike Wolfer, a comic book writer and artist, for a documnetary on the conventions and the artists who attend them. Our
trip to Falling Water
was a spiritual experience. In 2007 I went to Baghdad where I worked for a year. "Balloon Wars" is the working title for the book I wrote about working in Iraq and Afghanistan.
Chapter 1
is about our arrival in Kuwait City,
#27
, and in Baghdad,
#28
. My first vacation from Iraq was to Attica,
#29
, and the Peloponnese
#30
in
Greece
. My second R&R, four months later was in Paris
#31
and my last one, which I took after four months in Afghanistan, was to
Spain #36 and Portugal #37
.
Ballroom dancing and hobie cat sailing
For Judi and me, dancing and sailing have a lot in common. Both are things we learned together. I wish we'd done both sooner and we started sailing and dancing at about the same time.

Our interest in ballroom dancing began in 1995 when a producer hired me to shoot a professional competition in Washington DC. It was over the New Years weekend so Judi came with me to watch. We wouldn't have gone on our own. It wasn't one of our interests, but we found out it is very interesting and being so close to the dancers and behind the scenes made it even more exciting. Soon after that weekend we started taking lessons.

It wasn't easy. Judi and I are both coordinated and even athletic but for the first few lessons, which were for east coast swing, we couldn't really get the hang of it. It was my fault. The man has to lead and unless she's very good there's nothing the woman can really do about it.

So we suffered through until it clicked and that's how it was for all the dances when we first learned them. A few hours of frustration preceded the breakthrough. Until that "ah hah" moment it's frustrating and we fought with each other but after that initial, awkward period muscle memory develops and it starts to be fun.

I think the second dance was foxtrot which is our favorite. We like swing and cha cha next and we also learned waltz, salsa, samba and tango.

The first Hobie Cat, a Hobie 16 belonged to a friend of ours who no longer used it. I bought it from her and gave it to Judi for Christmas. I had done a little sailing when I was a kid but I didn't remember anything so that winter we watched videos and I read a book on how to operate it.

The first warm day that year, sometime in the end of May or early in June, Judi and I and our teenage son, Dan, went down to Rehoboth Bay, rigged the boat and got on. It was very windy but that didn't stop us. The wind was out of the south and I pointed us at the far shore, which is about three miles west of the beach we launched from. We were going so fast that first trip across the Bay only took about fifteen minutes which was thrilling but when we got to the far side I couldn't turn around, or, to use the nautical term, come about, and as I tried the boat nearly capsized, which would have been terrible because I didn't know then how to right it.

Eventually I was able to turn the boat around without turning over but by the time we finally got back to where we started our nerves were severely frayed. After a brief rest we repeated the experience several more times until Judi finally had enough and started mixing cocktails.

The following week and for many more since we've gone back to the same spot for both thrilling and very peaceful summer days. Sometimes the wind is like it was that first day and we fly across the water. We've capsized several times and although it's something to be avoided it's not a disaster. You're not really having the most fun if you never tip the boat over. Other times, when the wind is light, we'll just take what we can get.

Others have joined us over the years and for some, particularly children with little experience on the water, the day or days with us on the boat have given them and us very fond and lasting memories.
rob and judi swing dancing
High School
was a success. I graduated smack in the middle of my class from a school with high standards. I was my
sophomore class president
tri-captain of the football team, starting linebacker in the Delaware State
all-star game
and successful
wrestler
which is something I'm still proud of (and I don't care if that is a little silly.)
Scholastic sports
I don't know, it's actually unknowable, whether or not my participation in scholastic sports was worth it. Despite winning the high school State Championship in wrestling and playing in the Delaware football all-star game I didn't get any scholarships and I never came close to any of the professional careers that as an eleven-year-old star I assumed I would choose from. At that age the NFL was my first choice but if that didn't work out I'd play major league baseball. In the unlikely event neither of those two paths panned out I'd condescend to join the PGA and / or become a professional bowler. Who couldn't do that?
Naturally my childhood assumptions were silly and absent any income from athletics the next thing of value I could claim is how participating in sports affected my character in a way that led to a better life. The axiom that sacrifice and dedication builds character is valid but I might have developed mental toughness some other way, maybe through music or academics. It could also be that the ability to dedicate ones self to a goal is an innate attribute and that's why I made first string, not the other way around.
I do know football was the reason why I've had four surgeries on my right knee, the last one at the age of fifty and it's also how I came to break most of my fingers, a few toes and a shoulder. It's too late to make any changes though so regardless of the calculus of the overall positive or negative result I had some very good experiences associated with twelve years and at least two seasons per year on playing fields, basketball courts, bowling alleys, swimming pools and wrestling mats.
The age limit when I started in the Midget Football League in Virginia was seven but they let me join the team when I was six. I turned seven during that season so I had to wait until my birthday before I could play in the games. They changed the age limit to eight the next year so I had to wait to play that season too. Starting that young meant that by the time I left high school I had played on three midget teams and three high school teams; freshman, junior varsity and varsity for a dozen years, which is a pretty long career.
Wrestling was what I loved best and the most memorable events and personalities are from that ancient sport and martial art. Among them are the matches with Ed Bordley. I first saw Ed when his team came to wrestle ours in a preseason scrimmage. Since it was a scrimmage, weigh-ins weren't conducted so we didn't know who had who until we went out on the mat. Ed looked like he was either my weight or one class heavier. My friend, Gabe, was in the heavier weight class and I hoped he would wrestle Bordley rather than me. Gabe felt the same way because Bordley was unlike anyone either of us had wrestled before. He was blind.
We were right about Ed getting one of us and it turned out to be me. Everyone on my team felt bad for me not only because I would be the first of any of us to wrestle a blind kid but also because by the time I was called to the mat we'd heard that Ed was pretty good.
There's only one rule difference when either or both of the wrestlers are blind and it's the way wrestling starts when we're are on our feet, which is how all matches are started, blind or not. For sighted wrestlers the match starts with both wrestlers standing and facing each other a short distance apart. If either wrestler is blind, both extend their arms out in front of them with one hand turned up and the other turned down and touching their opponent's hands who are turned the opposite way; so the palms of both wrestler's hands are lightly touching each other. Once the whistle blows it's just like any other match.
Since the wrestling really starts, no matter who you're wrestling, when you lock up I didn't back away when the referee blew his whistle but Ed didn't let me lock up. He took my right wrist with his left hand in about a millionth of a second, grabbed the inside of my right, upper arm and pulled me to him with incredible, I mean it felt like super human, force. It's called an arm drag and one way to finish it is to trip the guy being "drug" as he passes by. I stepped over the trip which put me in the air and caused Ed to let go but he had pulled so hard I kept going all the way off the mat. My feet made contact with the mat about halfway to the outer circle and I kept on going until I was not just out of bounds but on the wood floor. He threw me out of bounds and OFF the mat from the center circle!
As I got up and walked back to restart the match, while noting that about two seconds were off the clock, I saw the looks of amazement on my teammates and heard the cheers and laughter from Ed's. Both responses had an effect on me.
When the match restarted I went for his head before he could get my wrist and the two of us fought for the advantage from the lock-up. It was a hard match because the report was right. Ed was good but he was also very strong and unorthodox. He didn't move like any one I'd wrestled before which made him hard to follow and counter. And when he did things I didn't expect he did them with tremendous strength. I ended up winning the match but not by much.
Our paths didn't cross again until the quarter finals of the State tournament. In the third period of our rematch I was winning but Ed was pushing me so I did what I hadn't done in the scrimmage or in the rematch until then. I broke contact, stepped back and shot back in for a double leg take down. I basically tackled him.
Back then the states were held the Field House at the University of Delaware and they were well attended. When I tackled Ed, who by then was very well known, the crowd objected and booed me, something rarely heard at high school matches back then. I think I would have kept the lead without the take down but I still don't regret playing it safe. After all, it was the state tournament.
I lost in the state finals that year but won the next year and Ed won the year after that.
He went on to attend Harvard
, wrestle there, and earn degrees in romance languages and law.
Delaware's "Gridiron Club" gives an award every year to an outstanding high school athlete with a physical disadvantage. Ed was the first to receive it and on the twenty-fifth anniversary of Ed's award they invited him to speak and they hired me to video tape the event. Another speaker that night was Johny Unitas.
I didn't know that Ed would be there and we hadn't seen each other since that night in the Field House. In fact, even though we had twice been in intimate contact under very special circumstances, we had never spoken to each other, so it was an amazing delight to reminisce with him after the dinner. I asked him about the match and what I did to illicit the boos and he told me that he'd always felt that my sportsmanship was outstanding. Separating for an instant as I had meant nothing. It was a very nice thing for him to say and I think he meant it.
What I went through with him is worth one broken finger, at least.
the house we built
The House We Built
In 1990 Judi and I decided to buy a house. We looked around and found a few that would suit our needs but then we found some property across the street from Killens Pond State Park that was ideal. It has woods and a stream in the back and a yard big enough for football in the front. Kim Keenan, who was the inspiration for my first book and his brother Robbie helped me frame it in seven days. My buddy Ron Snyder, another high school classmate, supervised the electrical work and other family members contributed labor as the construction progressed but Judi and I did ninety per cent of the work ourselves. Phil Spampinato, an engineer I worked with at ILC, and I fell off the roof together when the roofing paper we were standing on slipped. I lost twenty-five pounds during the six month construction just because of missed meals. We moved in the day after the occupancy permit was issued which was the last day of our lease on the house we were renting and the first day of the mortgage. I'd like to write that those coinciding dates and events were because of careful planning but they came at the end of a period of long days and more than one sleepless night. It was worth the effort and distress because although it isn't fancy or large, with our woodstove, hand-made touches and Endless Pool in the basement, it completely meets our needs.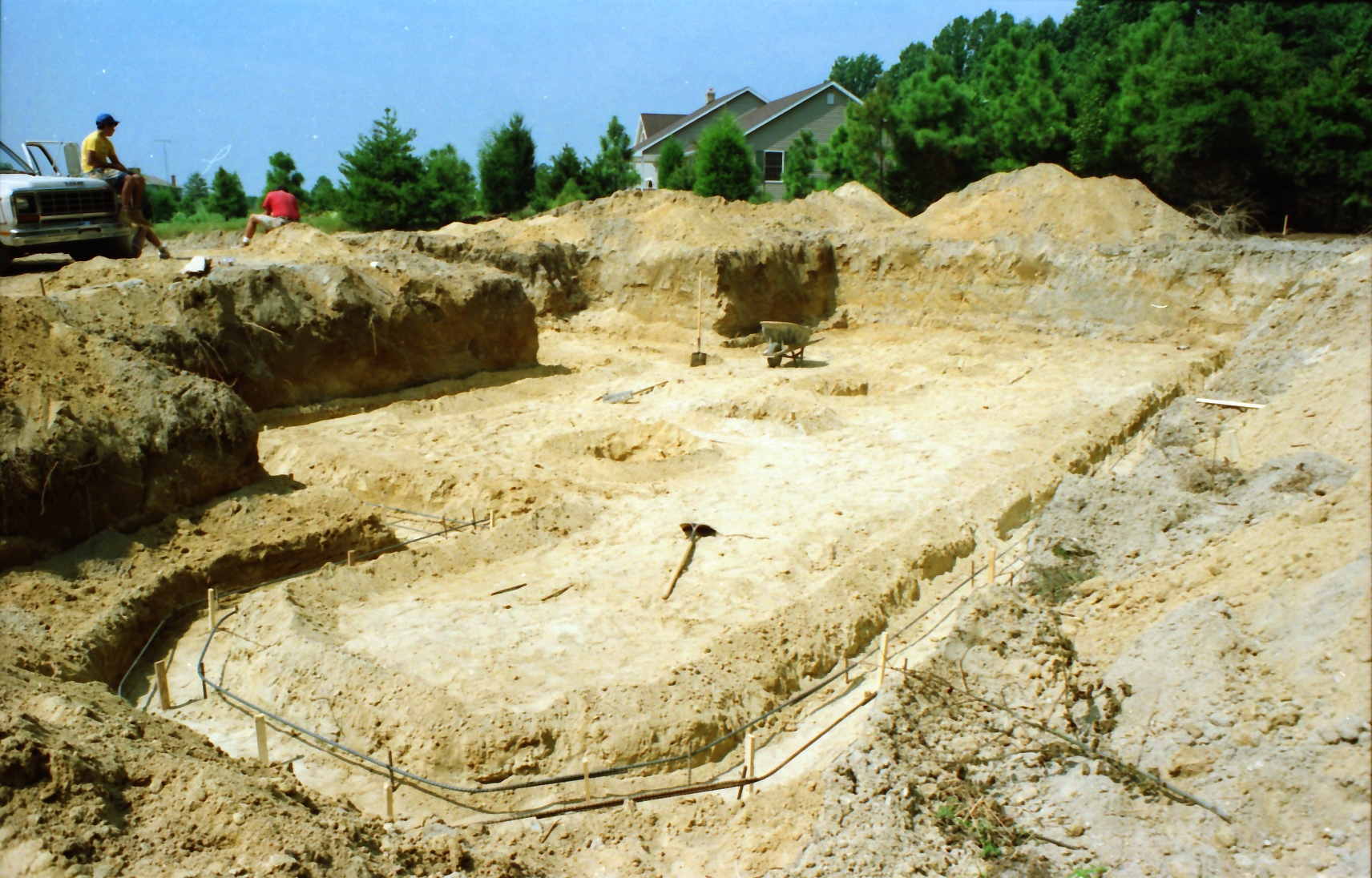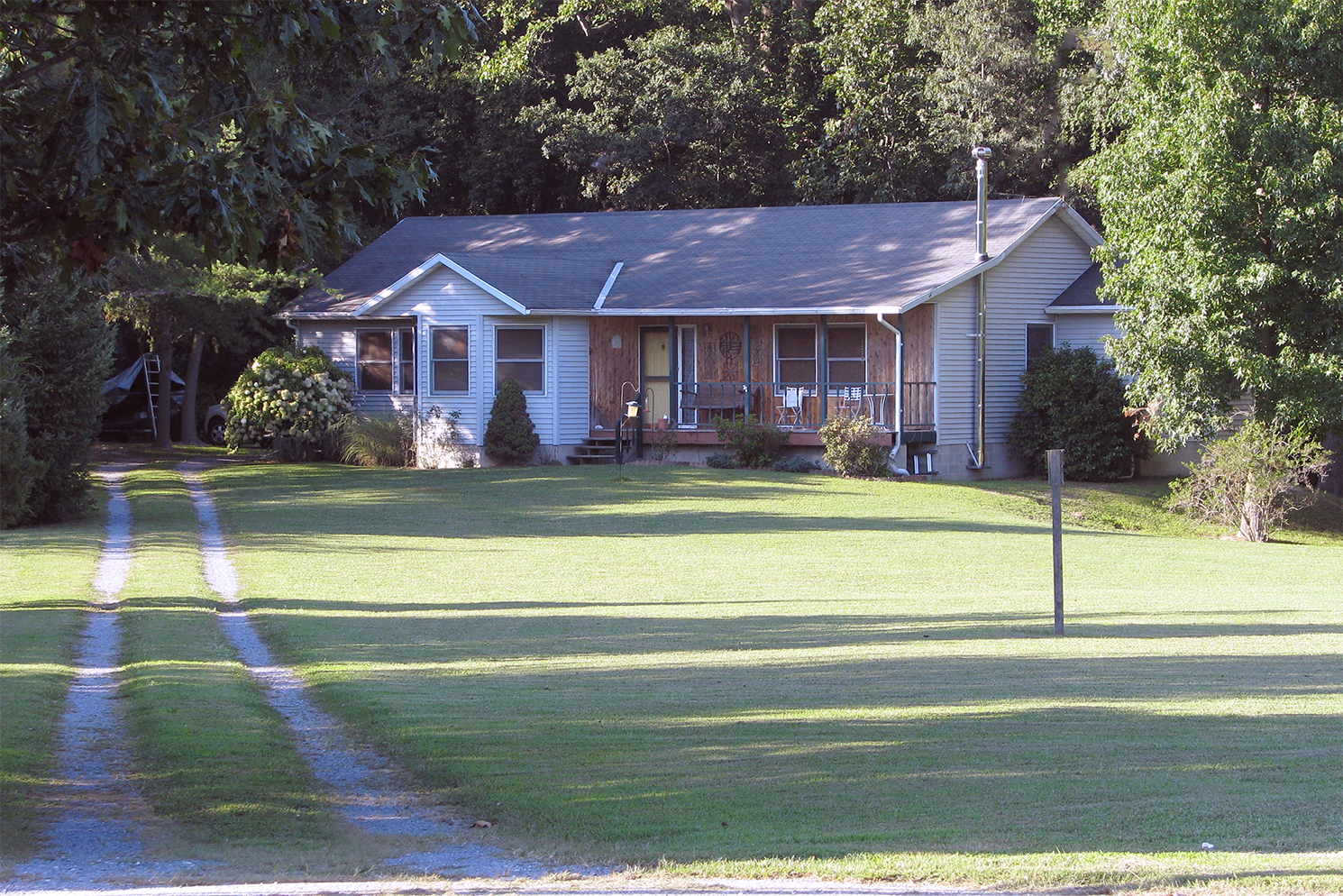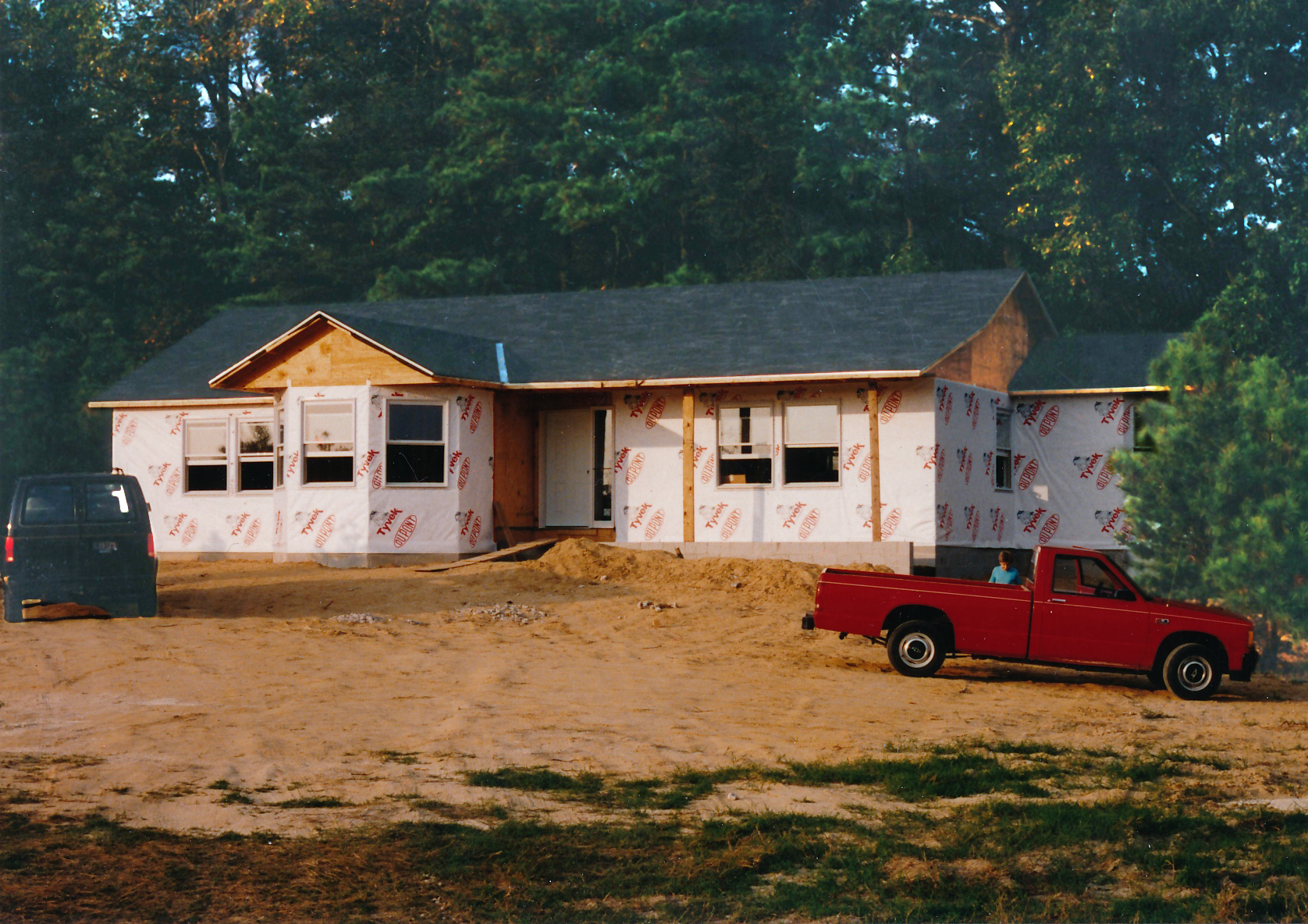 My Community Work
is or was with the Little League, Delaware State Parks, an arts organization, environmental groups, law enforcement and the Bloodbank.
website subject categories