The Cyclocrane
a hybrid airship invented by Arthur Crimmins, Jr. and Donald Doolittle
An article on the Cyclocrane and description of a nearly fatal event
Post and / or read comments on the Cyclocrane
(some photos on and attached to this page are by others)
The Cyclocrane was a hybrid airship intended for ultra-heavy vertical lift. I worked as a rigger, machinist and Project Manager on the Cyclocrane from 1980 to 1985 and was the co-pilot on the first flight.
Hybrid airships use lighter than air gases and aerodynamic forces to generate useful lift. The Cyclocrane used a device known as a cycloidal-rotor for producing aerodynamic lift. Helium, and for awhile a helium and hydrogen mixture, were the lifting gases.
The inventor of the Cyclocrane was
Arthur George Crimmins, Jr.
, my father. Dad came up with the idea after working on a similar device, the Aerocrane, which was conceived by a brilliant engineer,
Donald B. Doolittle
. Don was the President of All American Engineering, a Wilmington, Delaware manufacturer of aircraft arresting gear among other things. When Don invented the Aerocrane Dad was the company's marketing director. They worked together on the Cyclocrane with Don doing the lion's share of the structural design and Dad doing much of the electronics and control system and all the marketing and business functions.
Synopsis of the creation of the Cyclocrane with thumbnails of some of the creators
Rare Aerostats Composite by Hal Denison
Credit to Hal Denison
Hal Denison came to us shortly after we arrived in Tillamook and offered his services to photograph assembly of the Cyclocrane. He was extremely reliable and from the first contact sheet it was obvious that he was very talented so we continued to use him all way through the flight tests. Many of the images in these galleries are by Hal and although they are not individually identified it is safe to assume that the best ones are his. His web site is
Hal Denison Photo of the 1st Flight of the Cyclocrane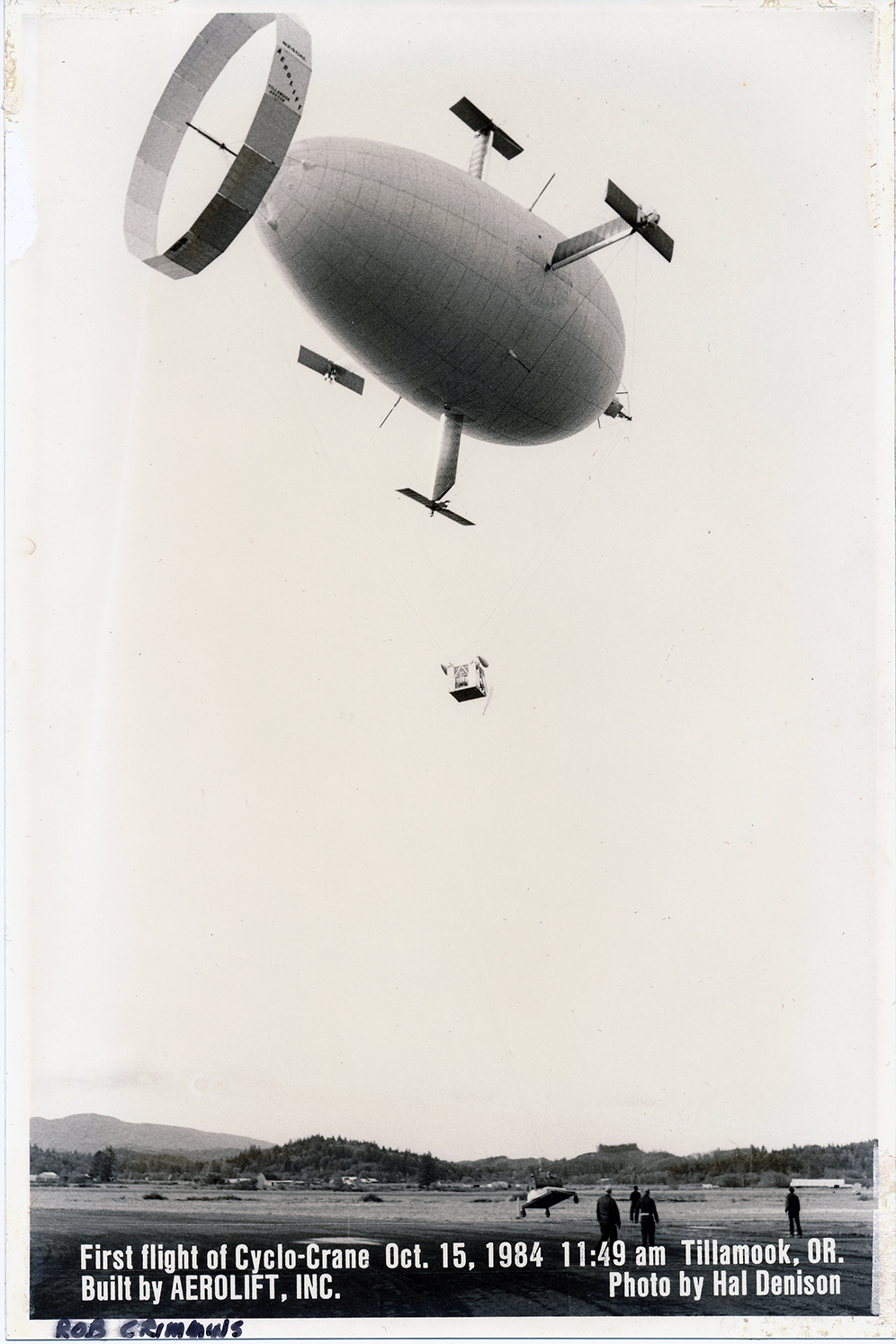 Cyclocrane News
Aerocrane News and Pictures
Balloon Logging Operation
website subject categories